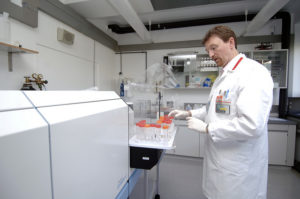 We offer a variety of lab services in order to offer you the best service and treatment solutions possible.
In addition to onsite field testing, EnergyFlo has a fully equipped technical services division and research laboratory.  Furthermore, we have laboratories located in the
regions that we serve
in order to offer as fast as possible turnaround times, the best service and the best treatment solutions possible.
Our laboratory services include
Amine Residual (Water Soluble)
API Gravity
API Serial Dilution Determination (SRB, APB)
ATP-Adenosine TriPhosphate
Bubble Test
Chlorides
Cloud Point or WAT
Cold Finger Test
Comprehensive Water Analysis, ICP-MS
Coupon Evaluation
Carbon Chain Distribution, GC-MS
Deposit or Solids Analysis
Dispersant Testing
Emulsification Testing
Foamer Testing
Foaming Tendencies
Flash Point
Flow Loop
Iron Count
Kill Time Study
Manganese Count
Microscopic Examination
MICkit 5 series
Millipore Evaluation
New Product Development
Oil and Grease, IR
Oxygen Determination (Field)
Particle Sizing
Phosphate Residual
Pipeline Flow Regime – Modeling
Pour Point
Product Compatibility Testing
Roll Ball Solvency
Rotating Cylinder Electrode, RCE
Specific Gravity
Thermal Stability
Triazine Test
Viscosity
XRD/XRF
% CO2 and H2S (Field Dragger Tubes)